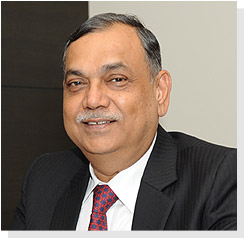 Sri S. C. Agarwalla
Chairman and Managing Director
Becoming
'India's premiere alloy company'
is the very motto that we work with at Maithan Alloys. Making Maithan Alloys the go-to name in India's steel landscape is the dream and the very fabric that runs within our organization.
After working with some of India's biggest steel companies, I believe we have the requisite experience, strength, ability and capacities to make our dream a reality in the near future. Setting and achieving a higher bar will be the key to our successes. Commitment, hardwork and integrity are the values that will be the hallmark of all our projects and ventures.
Since our foundation in 1995, we have worked unwaveringly for our stakeholders and posting successes that will consistently meet with their expectations. Delivering value to our shareholders and customers is and will always remain our top priority. Our new businesses, projects, research and development- all have the single-minded focus on generating shareholder trust and customer satisfaction.
It is said that 'customer satisfaction is a result of employee satisfaction'. We work by this and nurture our employees to help them achieve all-round professional growth. Employees make an organization and a happy employee will always make a successful organization. Our employees are our strength and we invest regularly in cultivating this strength to always be challenge-ready.
Going a step further- we have also reached out to the communities that we function in and are currently working on several sustainability projects. Creating fair practices and sustainable communities for its inhabitants is our responsibility and the areas of safety, health and education are our key focus.
In the coming years, we hope to witness a huge growth potential in our business. We aim to chart this with even higher production at our facilities through incremental improvements and by exploring acquisition of stressed assets at reasonable costs.
A company built on stakeholder trust can never fail. I invite you- as our esteemed stakeholder- to believe in us. It is with your trust that we will help us in achieving greater heights!